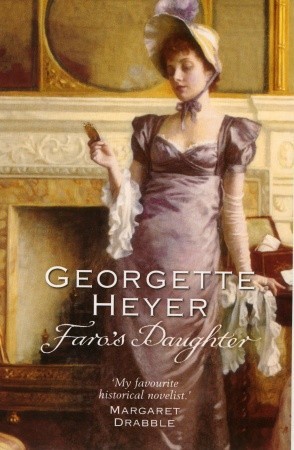 I missed this one in my chronological reread of Heyer's Regency romances because it's actually set in the 18th century, but apart from the occasional mention of brocade coats and lace frills and sac dresses, it's indistinguishable from the other romances. The hero is the usual world-weary older man, arrogant to the point of rudeness. The heroine is the spirited and independent sort, not quite the Grand Sophy or Serena from Bath Tangle, but along those lines. There are not one but two doe-eyed ingenues, and one callow buck, so we are on familiar ground here.
Here's the premise: gaming club hostess Deborah Grantham has attracted the attention of young Adrian Maplethorpe, who fancies himself in love. Believing Deb to be a fortune hunter, Adrian's trustee Max Ravenscar sets off to get rid of her. First he tries to bribe her, but she is so insulted that she refuses, and so sets in train a series of escalating reprisals between the two.
These are not my favourite Heyer characters, by any means, but the story was so entertaining and laugh-out-loud funny that I loved it anyway. The whole wine cellar incident is just sublime. There was only one wobbly moment right at the end, where the hero confesses his love and tells her he wants to marry her, and she's so angry at him she just can't stop shouting at him. That makes her seem like too silly for words. Could she not at least have had a wait-what? moment, and stopped shouting long enough to recognise the fundamental change in their relationship?
But ultimately, one doesn't read Heyer for the rational behaviour of her heroines (or heroes either), so this is another five star read for me.