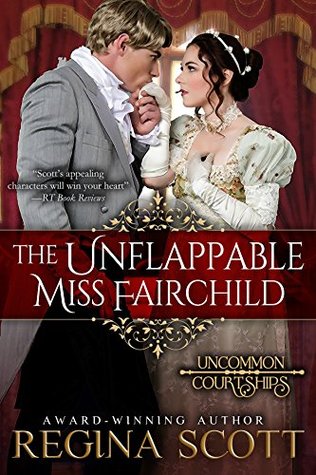 When I first finished this, I marked it as a 5* read, but when I came to write this review I couldn't for the life of me remember why. A book that slips out of my mind so quickly when I read so little these days is not really worthy of 5* for me.
It's a nice story of two people who are very, very different, and, although attracted to each other, move in very different circles and have to overcome their differences to achieve their HEA. He's a rake (yes, another one; anyone reading modern Regency romances would get the impression that London is entirely populated by rakes, rogues and scoundrels, and every last one of them an earl or a duke). And, as with all these rakes, he turns out to be a real softy at heart, nothing like as bad as he's painted. She, meanwhile, is a very respectable, not to say dull, person, not his usual type at all. And unflappable, with a calm and practical demeanour.
As with all such stories, the immediate attraction the hero and heroine feel for each other has to be tempered with numerous obstacles, because heaven forfend that two young, unattached people should simply fall in love and marry. Sadly, the obstacles turn out to be that out standby, the misunderstanding, and the singularly stupid attitude of: oh, he can't possibly love me so I must Wed Another. Sigh. Combined with a number of extreme coincidences, this seems like a regular trope-a-thon, doesn't it? Nevertheless, I enjoyed it hugely and found it page-turningly readable. A good four stars.